Bile acids are a category of structurally diverse molecules which are synthesised initially from cholesterol in the liver, are mainly stored in the gall bladder (as bile) and then secreted from the bile into the small intestine. Bile acids, which are amphiphilic molecules with 24 carbon atoms, consist of a steroid nucleus connected with a 5 or 8-carbon side chain, terminating in a carboxylic acid group (COOH) or hydroxyl in the bile alcohols (hydrophilic).
Bile acids have been known to promote digestion and absorption of lipids in the small intestine (including fat-soluble vitamins), alongside the role of lipase enzyme secreted by the pancreas, and they control cholesterol homeostasis. Bile acids are now known to be pivotal signalling molecules that regulate metabolic homeostasis through the secretion of gastrointestinal hormones and as hormones in regulating the transcriptional activity of the Farnesoid X receptor (FXR). They also participate in the regulation of several metabolic processes.
Moreover, bile acids regulate not only their synthesis and enterohepatic circulation, but also triglyceride, glucose, cholesterol, and energy homeostasis. This complicated process has been connected to activating the nuclear FXR receptor and/or the membrane Takeda G-protein-coupled receptor 5 (TGR5). This is why modulation of FXR and/or TGR5 signalling has been actively pursued in the management of metabolic disorders.
Figure 1 – Lipid metabolism and the role of bile acid in
dairy cows.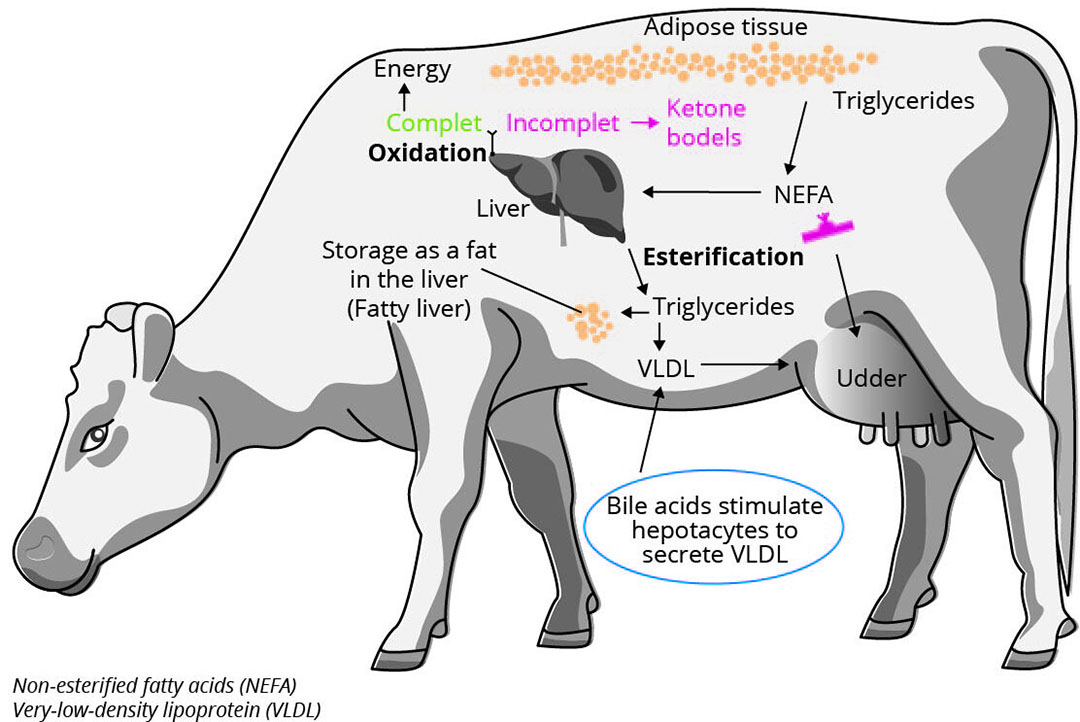 Triglyceride metabolism and liver ­performance
Generally, the liver takes non-esterified fatty acids (NEFA) from the blood which can either be esterified or oxidized (Figure 1).
1. Esterification: The main esterification product is triglyceride.
I. Triglyceride can either be exported as part of very low-density lipoprotein (VLDL) or
II. Stored as fat in the liver, leading to fatty liver disease. In ruminants, e.g., cows and sheep, the triglyceride export occurs at a slow rate. Therefore, under elevated hepatic NEFA uptake (e.g., low blood glucose and low insulin) fatty acid esterification and triglyceride accumulation occur, causing fatty liver. Given sufficient concentrations of bile acids, these can stimulate hepatocytes to synthesise VLDL (this means that they help minimise or prevent the accumulation of fat on the liver, which leads to fewer fatty liver problems and reduces the resulting negative effects on all aspects of production in addition to the negative effects on the animal itself).
2. Oxidation:
I. Complete oxidation of NEFA leads to the production of energy.
II. Incomplete oxidation creates ketone bodies, mainly β-hydroxybutyrate, acetoacetate and acetone. Ketosis is a common disorder around calving during the sudden increase of NEFA concentrations when energy and metabolisable protein requirements for milk production far surpass energy and metabolisable protein intake, and as a secondary disorder that may lead to a reduction in dry matter intake and elevated NEFA.
Figure 2 – The response of peak milk production to dietary bile acids supplementation was given to Holstein dairy cows during the transition period.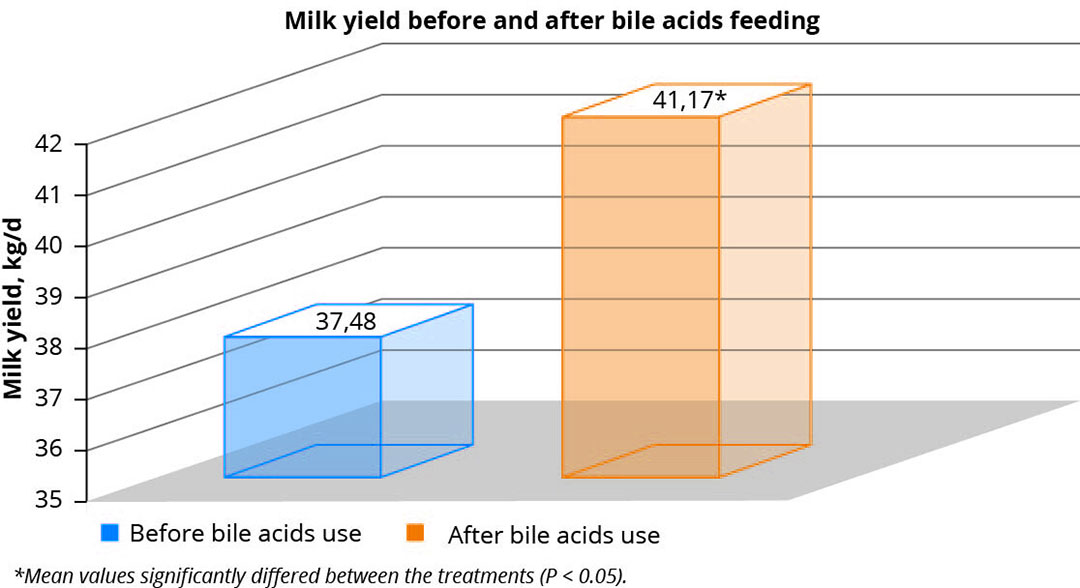 The efficacy of bile acid supplementation to dairy cows
This section provides a review of experiments conducted to evaluate the efficacy of bile acid supplementation to dairy cows for milk production and profitability.
A study was conducted to assess the efficacy of supplying bile acid in improving the production efficiency of transition Holstein dairy cows at one of the largest dairy farming groups in China.
Cows were supplemented with bile acids at a rate of 0.15% of DM (Runeon, Shandong Longchang Animal Health Products Co.). A total of 430 prepartum Holstein dairy cows were used in this study. They were divided into 2 equal groups with 215 cows per treatment; (1) were control cows, and (2) were cows fed a diet supplemented with bile acids.
Blood samples were taken periodically from the tail each week during the study for a total of 2 months (1 month pre-calving and 1 month post-calving), and individual cows' milk production was automatically recorded by the milk weight sensor in the milking parlour. Bile acids were supplemented at 0.15% of dry matter (DM, corresponding to ≈ 30 g/cows/daily). These were included in the total mixed ration (TMR) in the morning feed each day during the experiment and delivered to the cows using a TMR feed mixer.
The impact of bile acids on milk yield
Here we focus on the impact of bile acids on milk yield in transition dairy cows from a practical point of view and in relation to profitability.
Milk production is a meaningful key performance indicator (KPI) in evaluating animal performance in commercial dairy farming across the globe (besides many health and fertility parameters). In this study peak milk production increased by more than 3.5 kg of milk per day after the cows consumed bile acids compared to the period before they were supplemented with bile acids.
Based on the results obtained from this study and, taking into consideration the large scale of the farm and the quality of farm management and other considerations, we can conclude that dietary bile acids supplied to transition Holstein dairy cows may aid in improving liver functions. Supplementation thus minimises metabolic disorders, which enhances animal health and stimulates dry matter intake, creating a better energy balance.
As a result of the points mentioned above, bile acids support dairy cows in producing more milk both during early lactation and beyond that period. In addition to good farm management, as indicated earlier, all the above factors together allowed the cows to perform better during the early lactation period, leading to a higher peak of milk (in addition to other KPIs).
Conclusion
Based on the results obtained from this experiment, dietary supplementation with bile acids at 0.15% of dry matter (DM, corresponding to ≈ 30 g/d) given to transition Holstein dairy cows helps improve milk production and profitability both during early lactation and in the period beyond.