Over a million people have watched the heartwarming video of an elderly rescue dog trying to keep up with younger pups.
The "adorable" footage, shared by jadegreenvegan, has racked up over 250,000 likes since being posted on September 8.
With age comes wisdom, and Panda, the 13-year pooch, proves she doesn't miss a trick like her furry siblings.
While the younger dogs rush off to look for the ball, Panda realizes her owner never threw it so she makes a U-turn and receives the ball.
The video caption says: "We simply don't deserve dogs."
You can watch the "priceless" moment here.
According to the American Veterinary Medical Association, year two for a dog equates to about nine years for a human. And after that, each human year would be approximately five years for a dog.
Contrary to popular belief, dogs don't age at a rate of seven human years for each dog year. That means Panda is approximately 64 years old in human years.
The American Kennel Club states that proper exercise is just as important for a senior dog as it is for a puppy, so it's great to see Jade is making sure Panda is getting fresh air and a walk.
The experts advise swimming, leash walks, and gentle games of fetch to maintain fitness for elderly dogs.
In the comments, Jade, from London, describes senior dogs as "the best."
Daily Paws, the pet information website, has revealed rescuing a senior dog has many benefits, such as having to provide less training and finding an animal with a less active lifestyle.
It's also a great opportunity to give abandoned dogs a chance to enjoy their golden years. It's also worth noting, however, that a senior dog won't be an easy ride as they are prone to more diseases, such as arthritis, and they may have different requirements such as needing a quiet home.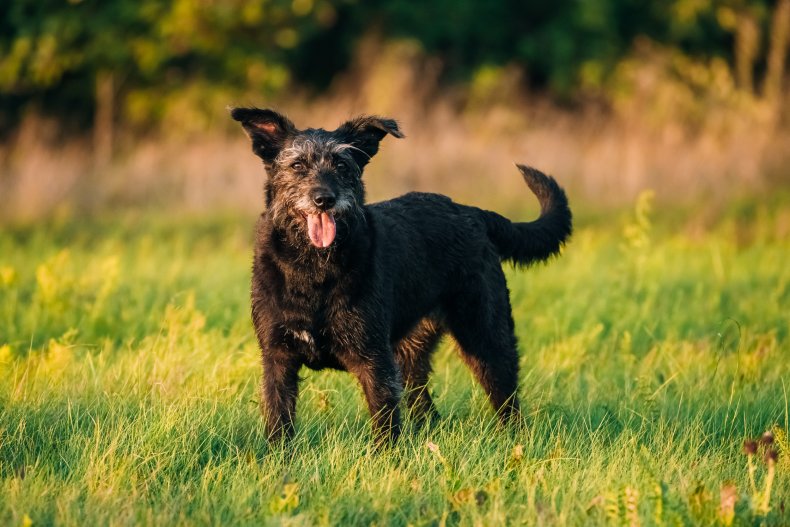 The wholesome video has even reduced some TikTokers to tears. One user wrote: "over here crying."
The creator responded and stated she cried while making the wholesome video too.
The top comment, whic has received over 2,600 likes, said: "Panda, you are a queen."
Another user joked: "Why did I think the dogs were going to let Panda get the ball?"
Panda, the popular pup has been called an 'angel', 'special', 'precious' and 'cute' by doting TikTokers, who have urged Jade to "protect Panda at all costs."
Newsweek has contacted u/jadegreenvegan for a comment.
Do you have funny and adorable videos or pictures of your pet you want to share? We want to see the best ones! Send them in to [email protected] and they could appear on our site.