A worker whose pet cat was called "unprofessional" for interrupting a Zoom meeting has sparked a debate—and laughter—online.
In a post to Reddit's r/antiwork forum on Monday, user u/abovepeach wrote that her cat had jumped onto her lap during a video call with her new employer.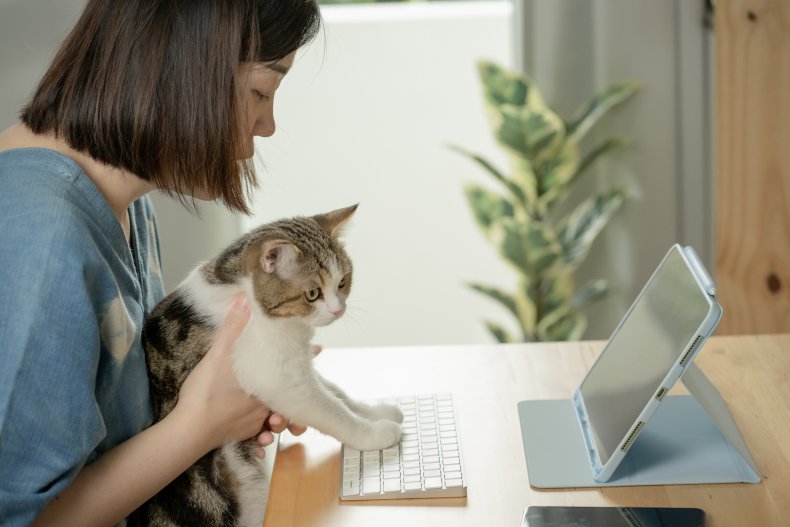 Shortly after the meeting ended, she received a message from her boss telling her it's unprofessional to have pets on screen.
Asking fellow Redditors for advice, the poster wanted to know if the message is a "red flag."
However, users seem to be split on whether it's appropriate for pets to crash virtual work meetings, with many focusing on the cat's lack of professional decorum.
Balancing Work and Pet Care
Americans love their pets, with 88 percent of owners saying their animals are family, but even beloved pets have their irritating moments, as a study conducted during the height of the pandemic showed.
Surveying 3,670 American pet owners between April and July 2020, researchers found that our furry friends were an additional stressor for those working from home.
Owners said they were worried about not meeting their pets' social requirements, as well as frustration over their pet's constant need for attention. Bad behavior and regular work interruptions were also issues that owners raised in the study, with many finding it difficult to balance work and pet care.
'Cats Are Unprofessional'
In her post, u/abovepeach said her new job requires her to work from home. During a video call with a client and her new boss, her cat hopped onto her lap, which was caught on camera.
The interruption was deemed "unprofessional" by her boss, and now the poster is concerned she has stumbled into a toxic work culture.
"I was actually very excited about this job," she wrote. "Ugh I hate corporate America."
Reddit users were divided on whether the boss's message was a bad sign, with the post receiving more than 5,000 upvotes and 1,100 comments—mostly about cats and their lack of work ethic.
"Cats are unprofessional," wrote jmbsol1234. "They don't even get dressed for the calls… Unless it's a tuxedo cat. Then they might be slightly overdressed."
"Have you seen their work?" Capt-Cupcake posted. "All their emails and documents are typed out like if they just laid on the keyboard and hit all the keys.
"What is 'whdusbdidabeuxahahehxjwoexogjs'?"
Cassierae87 wrote: "Just respond in the email that you will be forwarding this email to your cat and have a meeting with the cat regarding your cats unprofessionalism."
Some posters wrote serious answers, with Lopsided_Purpose_574 posting: "At my monthly zoom meetings we start the day showing off our pets."
However, ritswd wrote: "I worked for larger companies that were marketing themselves on 'you can take us seriously,' where formal attire and respectful speech was part of the package.
"A cat on Zoom would have made everyone livid."
Gixis commented: "Other places may not care, but they do. If you get to WFH and that is the biggest issue, then it sounds great to me."
Newsweek has reached out to u/abovepeach for comment. We could not verify the details of the case.
Do you have funny and adorable videos or pictures of your pet you want to share? Send them to [email protected] with some details about your best friend and they could appear in our Pet of the Week lineup.