This article was published in the 2022 Buyers Guide issue of Pet Food Processing. Read it and other articles from this issue in our Buyers Guide digital edition.
Growth in the pet care industry shows no signs of stopping. In 2020, sales for the US pet care industry reached over $100 billion for the first time ever, according to the American Pet Products Association (APPA). After reaching that milestone, the industry expected continued growth, but the $123.6 billion in sales in 2021 exceeded expectations. APPA estimated growth would be around 6% for 2021, but it ended up at 13.5% by year's end.
"The numbers don't lie: The pet industry has shown itself to be incredibly strong and resilient with a record-breaking two years," said Anne Ferrante, APPA's senior vice president of member relations and business development, following the release of the association's 2021 State of the Industry data. "We expect continued growth as we look toward the remainder of 2022, although we anticipate it may be at a more moderate pace given the impact of volatile factors like inflation, supply chain issues and global relations."
Globally, pet food sales grew to $123.6 billion, according to year-end estimates by market research provider Euromonitor International. In the United States, pet food and treat sales are expected to reach $45.4 billion by the end of 2022. Dog and cat food exports for 2021 set a record at $2.05 billion, which increased by 19.8% from 2020, according to the Department of Commerce.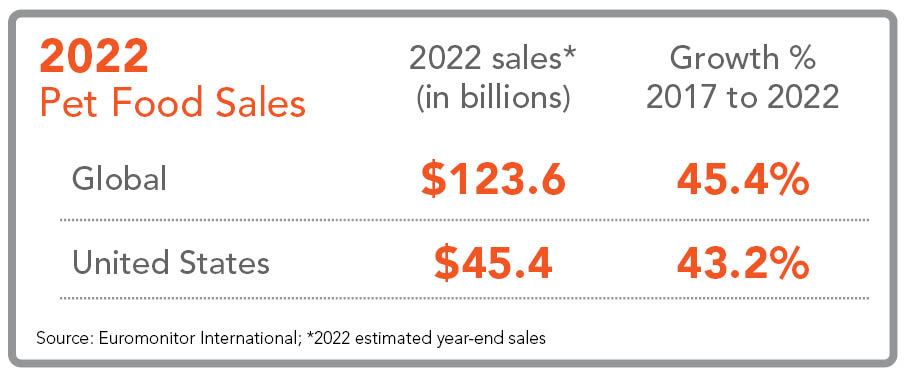 If industry analysts are correct in their predictions, the industry's growth won't be slowing, but rather picking up speed through the rest of the decade. Analysts with Morgan Stanley Research and AlphaWise, the company's survey and data group, believe the US pet industry may reach $275 billion by 2030.
"We think the US pet industry has reached an inflection point, taking topline compound annual growth rates to 8%, versus 3% for the last decade," said Simeon Gutman, equity analyst covering hardline retail for Morgan Stanley Research.
Fueling these expectations is the anticipated growth in number of pet owners over the next five to 10 years. According to the 2021-2022 APPA National Pet Owners Survey, 70% of US households own a pet, which equates to 90.5 million homes. The AlphaWise survey reported that 65% of 18- to 34-year-olds plan to get a pet in the next five years, which will help drive the expected 14% increase in pet ownership by 2030.
With the growing demand for pets comes a growing need for pet food and treats in a variety of formats to satisfy the cravings of the expanding population of pets. But, possibly more importantly, varying pet food and treat formats are needed to satisfy the changing demands of pet food purchasers — the pet parents.
While food and treats still top the list of where pet parents' money is going, other pet-related products and services continue to make the list of necessary expenses. The APPA's 2021 State of the Industry report showed:
$50 billion was spent on pet food and treats (a 13.6% increase from 2020).
$34.3 billion was spent on veterinarian care and product sales (an 8.9% increase over 2020).
$29.8 billion was spent on pet supplies, live animals and OTC medication (a 17.8% increase from 2020).
$9.5 billion was spent on other services, including grooming, dog walking and boarding (a 17.3% increase over 2020).
On the food side, all pet food formats saw growth between August 2021 and August 2022, according to Chicago-based market research firm IRI.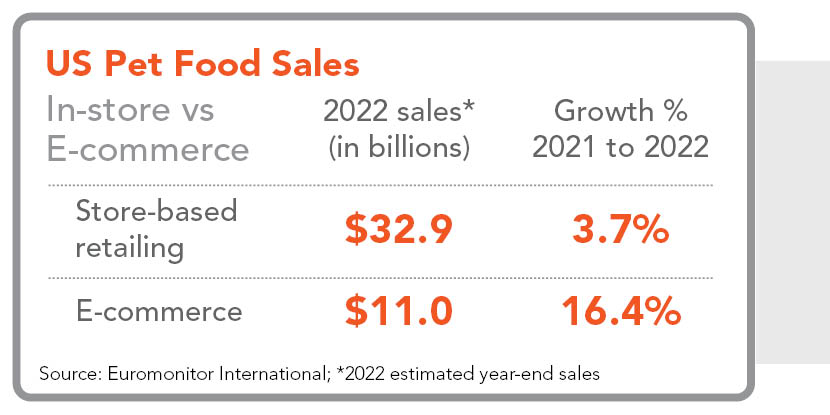 Dry dog food had a better year after declining sales of 3.5% between August 2020 and August 2021. In the 52 weeks ended Aug. 7, 2022, dry dog food sales increased 12.3%. Dry cat food stayed more or less even between 2020 and 2021, but saw a 13.2% increase between 2021 and 2022. Wet dog and cat food saw 14.2% and 14.4% increases, respectively, compared to the year prior.
The refrigerated/frozen category in both dog and cat food led the way in category sales growth with a 35.8% increase in dog food and a 22.5% increase on the cat side. The category had also seen solid sales growth between 2020 and 2021, though not quite as substantial.
On the treat side, dog treat sales continue to rise with a 9.6% increase from $3.21 billion in 2021 to $3.54 billion in 2022. Cat treats saw slightly higher growth from $969 million in 2021 to $1.1 billion in 2022, an increase of 14.9%.
Food and treat innovation
As pet parents shop for pet food and treats at their favorite pet retailer or online direct-to-consumer distributor, they're looking for more than just the basics to feed their four-legged family members. While complete-and-balanced food options are always on the menu, pet parents are looking for more from the pet food formats they choose.
During a presentation at SuperZoo 2022 in Las Vegas, market research firm NielsenIQ shared its latest pet industry data shedding some light on the pet food innovations available on the market today.
Pet food sales with specific functional attributes are growing rapidly. According to NielsenIQ, sales of products offering mental health, mood and stress relief are up 34% from August 2021 to July 2022; those offering performance support are up 32%; urinary health are up 27%; kidney health are up 22%; and heart health are up 19%. Those offering skin and coat health and cellular function support are both up 18%; and products boasting immune system, digestive and joint health are all up 15% from 2021 to 2022.
Not only are there more products on the market touting these functional benefits, but online search volume growth across pet retail channels shows continued interest in specific product attributes. According to NielsenIQ, pet parents frequently search for products that specialize in dental health, hairball control and anxiety health. Between August 2021 and July 2022, the most-searched pet product attributes included calming, urinary health, sensitive stomach and weight control.
The pet supplement segment of the market continues to expand with probiotic ingredients, gut health, behavior assistance, joint health and stress relief being some of the trending attributes. In fact, pet supplement purchases are growing at a faster rate than the same category for humans — up 11% for pet supplements and only up 6% for human supplements, vitamins and minerals. Dollar sales for gut health pet supplements grew 213% from the second quarter of 2021 to the second quarter of 2022, and behavior assistance supplements were up 132%.
Products and supplements containing CBD have been growing rapidly year after year. On a three-year basis, CBD pet supplement sales were up 236%, while CBD pet food sales grew 377%, according to NielsenIQ.
"CBD is being included in pet treats and supplements for the same reason they are being produced for human consumers, for their purported health benefits," said Hilary Brown, director of research and development, SōRSE Technology, Seattle. "Consumers are typically interested in using CBD for their animals' general wellness."
Pet parents are looking to CBD to help their pets with cancer, epilepsy and seizures, stress and anxiety, digestion and nausea, pain and inflammation due to joint problems, aging and degenerative diseases, and skin inflammation and allergies. Between August 2021 and July 2022, CBD-inclusive pet supplement sales were up 22% and CBD-inclusive pet food products grew 35%.
As long as pet parents continue to want the best for their pets, the pet nutrition space will continue to evolve. Pet product consumers will keep searching for the latest and greatest solution-based products to keep their furry companions happy and healthy, which will provide brands with plenty of opportunity to expand their product offerings to meet these changing needs.
Growth and challenges
Despite labor shortages, supply chain challenges and rising costs throughout the manufacturing industry, pet food processors show their optimism through continued plant expansions, capital improvements and even new plant construction. CRB, a provider of sustainable engineering, architecture, construction and consulting to the food and beverages and life sciences industries, took a close look at this ever-changing industry in its Horizons: Pet Food report. The Horizons study, conducted in November and December 2021, consists of responses to around 100 questions by 300 pet food manufacturing leaders.
"At stake is nothing less than a projected $275 billion, the expected annual value placed on the pet food industry by 2030," wrote Tim Barba, CRB's chief operating officer, Global Technical Operations, in the report's opening passages. "To get their share, manufacturers are feverishly expanding and modernizing their production capacity, exploring new segments, and aligning their products with the qualities prized by ingredient-conscious consumers."
Respondents listed their top production challenges, which included supply chain, labor availability and skilled workforce, and aging equipment and technology. Questions surrounding capital expense projects revealed that 22% of respondents plan to spend less than $5 million over the next five years; 45% anticipate spending $5 million to $10 million; and 24% plan on spending $10 million to $50 million. 
"One-third of producers are either planning a significant expansion to an existing facility or a new facility in the next five years and two-thirds are planning either routine maintenance or equipment or small additions to their lines in the next five years," said Tony Moses, Ph.D., director of product innovation for CRB. 
Sustainability is more than just a buzzword in the pet food industry — it's a mission-oriented goal for many. During SuperZoo 2022, a group of processors made commitments to develop measurable progress toward the use of refillable, compostable and recyclable packaging by the end of 2025. Canidae, Earth Animal, Instinct, Petcurean and Primal Pet Foods publicly signed the Pet Sustainability Coalition's (PSC) Packaging Pledge during the show, solidifying their commitment toward sustainability.
"The pet industry produces 300 million lbs of food and treats packaging that ends up in landfills each year, just in the United States," said Stephie Volo, chief marketing officer at Earth Animal. "The PSC Packaging Pledge represents a powerful opportunity for us all to collaborate in significantly reducing the industry's impact on the environment."
According to PSC, with a collaborative effort from pet food manufacturers and packaging companies through programs such as the Packaging Pledge, "the pet industry can achieve rapid adoption by 2025 and near 80% transition of all pet food multi-laminate packaging by 2030."
CRB's report also revealed producers are taking sustainability quite seriously. A question about future plans for becoming carbon neutral showed that the majority of the respondents' companies either have plans in the works for becoming carbon neutral, or they soon will. Fifty percent will have a plan in place within five years; 30% within 10 years; and 7% in 10 years or longer. Only 6% of respondents reported that they have yet to start working toward this goal.
As the pet food industry continues its growth trajectory, processors undoubtedly have a lot on their plates. They face the ongoing task of meeting the demands of current and future pet parents as they search for more variety from the food and treats they feed their pets. Alongside this, the industry continues to battle the manufacturing challenges of labor shortages, supply chain logistics and rising ingredient costs, all the while working to keep sustainability and other environmental issues a priority. If the pet food industry can stay the course, innovating and expanding along the way, prognosticators might just be correct with their lofty growth predictions.
Keep up with the latest pet food trends on our Trends page.