PLANTATION, FLA. — Chewy, Inc. shared its third-quarter earnings on Dec. 8 for the three-month period ended Oct. 30. In it, the company detailed double-digit net sales growth and a significant expansion in adjusted EBITDA compared to the same period in fiscal 2021.
Net sales for Chewy in the third quarter came to $2.53 billion, up 14.5% from $2.21 billion in the third quarter of fiscal 2021. Nine-month net sales for the retailer topped $7.39 billion, up 13.7% from year-ago revenue.
Adjusted EBITDA of approximately $70.40 million in the third quarter represented a considerable year-over-year increase of 1,064.4%. For the first nine months of fiscal 2022, Chewy's adjusted EBITDA totaled $213.97 million, up 100.6% year-over-year from $106.67 million.
The company has also improved its net income since fiscal 2021. Net income for the third quarter of fiscal 2022 totaled $2.31 million, up from a loss of $32.24 million in the third quarter of 2021. Nine-month net income for fiscal 2022 totaled $43.13 million, up from a loss of $10.21 million in the first nine months of 2021.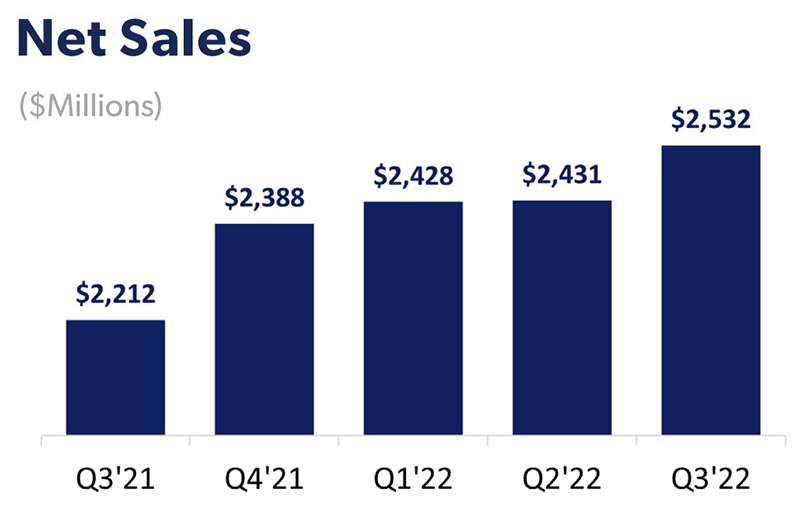 "Chewy's third quarter results showed accelerating double-digit topline growth, sustained gross margin expansion, and solid free cash flow generation," said Sumit Singh, chief executive officer at Chewy. "The fact that we are simultaneously driving top line growth and expanding margins is yet another proof point of our ability to get big fast and get fit fast, regardless of the macro environment. Our results are a clear indication of the resiliency of the pet category and how Chewy's compelling value proposition of low prices, personalized service, and delivery convenience across a broad selection of products continues to resonate with our customers."
The company now has 20.5 million active customers, up 0.6% year-over-year. Net sales per active customer have increased 13.8% to $477. Autoship customer sales accounted for 73.3% of net sales in the third quarter, totaling $1.86 billion and representing a 18.8% year-over-year increase in autoship sales as a percentage of net sales.
"We experienced strong demand throughout the third quarter, especially across our non-discretionary categories, which provided a solid foundation for our growth," Singh said. "…Digging a little deeper into our Q3 net sales, non-discretionary categories like core food and healthcare collectively made up over 83% of our net sales and were the primary growth drivers, reflecting healthy unit demand and improved in-stock levels."
Chewy's gross margin was 28.4% in the third quarter, up 200 basis points from 2021. Net margin was 0.1%, up from -1.5% in the third quarter of 2021.
The retailer announced the launch of Vibeful, the company's first private-label brand in the pet wellness category. The Vibeful brand includes several supplement formulas for dogs, including a 10-in-1 Multivitamin, Allergy & Immune Support, Mobility, Probiotic Soft Chews, Calming Soft Chews, and Grass Protection Soft Chews, as well as a Wild Alaskan Salmon Oil formula for dogs and cats.
"The non-prescription pet health and wellness category has an estimated 2022 TAM [total addressable market] of over $2.4 billion," Singh said. "Given the increased consumer focus on wellness and the ongoing trend towards pet humanization, we believe this launch gives us another opportunity to strengthen our connection with customers and to drive top and bottom line results."
Additionally, Chewy continues to expand and diversify its Chewy Health platform, including its CarePlus insurance and wellness offerings.
The retailer is taking incremental steps toward improving its supply chain and logistics operations. This effort includes increasing capacity for its automated fulfillment center network, which now ships 30% of the company's total volume, compared to 10% of total volume in the third quarter of 2021, according to Singh.
The company is also working to rebalance its inventory, using planning software to improve in-stock levels. This has in turn reduced average shipping distances by 25%, Singh noted, therefore reducing click-to-deliver times, improving order accuracy and lowering overall costs.
Chewy has also fine-tuned its import routing facilities with the capacity to handle 90% of total import volume by the end of the year, which is expected to reduce inbound freight costs and enhance inventory distribution, Singh said.
"Collectively, these supply chain and logistics efforts have allowed us to mitigate freight costs, begin leveraging our SG&A expenses a quarter ahead of schedule, and improve customer experience on multiple fronts," he noted.
"The operating environment remains dynamic and evolving," Singh said. "What hasn't changed is how much pet parents value the enduring companionship of their pets, and it is this emotional bond that sustains the pet category through all phases of the economic cycle. Chewy's compelling value proposition backed by low prices, personalized service and delivery convenience across a broad selection of products continues to resonate with our customers. This enables us to build the long-term trust that, in our view, allows us to outgrow our competitors and take market share."
At the end of Chewy's third-quarter earnings call, Singh announced Chief Financial Officer Mario Marte will retire after nearly eight years with the pet retailer. The official date of Marte's retirement is still unknown, but Singh shared the company has started an internal and external search for his replacement.
Chewy's full-year 2022 guidance pins net sales between $10.02 billion and $10.04 billion, representing 13% year-over-year revenue growth. For the fourth quarter, the company expects net sales between $2.63 billion and $2.65 billion, which would represent year-over-year growth between 10% and 11%.  
Read more about corporate strategy, financial performance, mergers and acquisitions on our Business page.