A hilarious video of a senior dog refusing to let a cat inside the house has gone viral on TikTok with over 1.8 million views.
In the video, posted by TikTok user @tbone319, a cute golden retriever named Buddy can be seen looking stoic and lying in front of a shower cubicle, while Angus the grey and white cat is stuck inside meowing and looking for a way out.
The text reads "Buddy acting like he doesn't know he locked Angus in the shower," while the caption says: "He knows exactly what he's doing" as "My Heart Will Go On" by Celine Dion plays in the background.
Although cats and dogs have been pitted against each other in many stories, films and TV shows, there are many moments captured on TikTok of the two species getting along well.
A study from 2020 published in Plos One found that cats are more likely to ignore dogs than vice versa. However, 64 percent of the surveyed pet owners reported that their dog and cat play together sometimes. The study also found that cats reacted more negatively when in the room with a dog that was getting attention from the owner, suggesting that cats do have a sense of possessiveness over their owner.
According to pet food brand Purina, Australia has some of the highest statistics of dog and cat ownership including households with both cats and dogs.
Purina suggests that when introducing a new cat into a household that already has a dog, it's best to set the new cat up in a separate part of the house. "This also gives your new cat to settle comfortably in to their new environment," Purina says.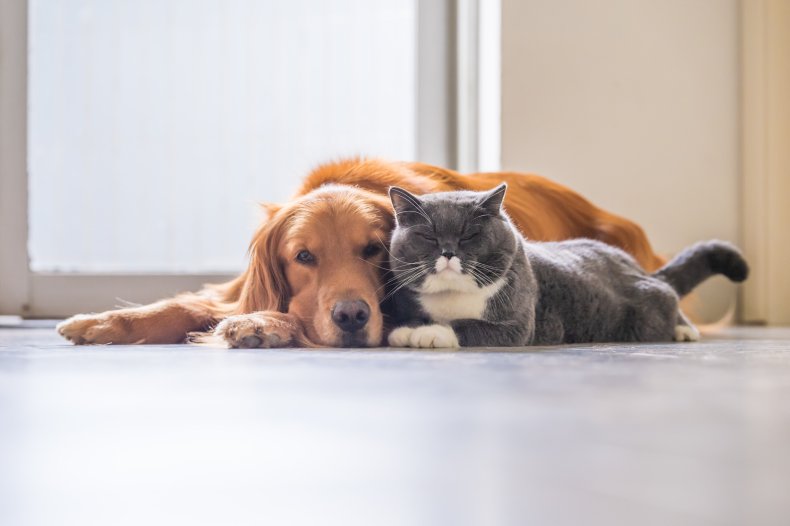 Purina also states: "Remember that cats and dogs like different things, cats often prefer to be able to get up high and look down on their world. This also allows them to have some 'me-time' away from other pets when needed. Dogs spend more time investigating their environment, so providing them with interactive toys will help keep them occupied and less interested in what the cat is up to."
One user commented: "That poor dog had the look of relief that he won't be bothered for at least a little bit!"
Ashley Drinkwater said: "U know when you're so tired you can't hear anything?"
Nayab commented: "He looks like an old wise man teaching the young students some patience."
shewrites99 wrote: "Oh like the cat wouldn't do the same thing if given the opportunity. Lol. I understand buddy. Get them before they get you!"
Newsweek has reached out to @tbone319 for comment.
Do you have funny and adorable videos or pictures of your pet you want to share? We want to see the best ones! Send them in to [email protected] and they could appear on our site.